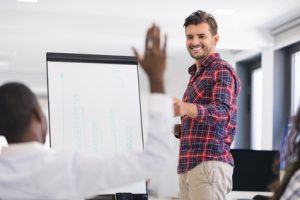 I recently led a 2-day leadership development event for a group of new pastors. I came away encouraged and excited by the people in the room. Their fresh ideas, creative energy, and passion for the Gospel were contagious. It made me hopeful about the future of the church.
However, I also came away concerned. Some of these pastors had already experienced soul-crushing conflict in churches that were more concerned with protecting the status quo than advancing the gospel. Many of them were serving as associates, and in some cases their risk-averse senior pastors were reluctant to give them the freedom to try anything new.
So the remainder of this blog is for veteran ministry leaders – denominational execs, seasoned senior pastors, and influential laypeople. You have the opportunity to help overcome these obstacles. Here are four suggestions to release the energy of passionate, creative leader, regardless of their age:
Create a culture where experimentation is the norm. I love experiments. They don't require betting the farm. By definition, an experiment is a low-cost, low-risk attempt to do something new on a small scale to see what might work.
Treat every experiment as an opportunity to learn and grow. Regardless of the outcome, an experiment is a success as long as it generates new insights that can lead to more effective ministry or help a leader to mature.
Differentiate between guardrails and straightjackets. I'm not suggesting that younger leaders need complete autonomy. The best arrangements provide ongoing mentoring and boundaries for experiments. But if a seasoned leader imposes too many restrictions, creativity and learning will die in a straightjacket of "protection."
Watch their backs. One of the greatest gifts that you can give young leaders is to support them when the inevitable resistance arises. If they're just doing an experiment and staying between the guardrails, then they deserve your protection.
This is the kind of advice that sounds good on paper, but when the rubber meets the road, it can be scary. The only thing that's scarier would be for a generation of high-potential leaders to walk away from an inflexible church.
It's easy to receive my blogs by email. Just sign-up on Feedburner by clicking here.