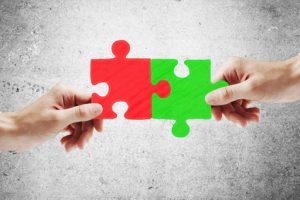 As described in my previous blog, the growth of multi-site churches has fueled an increase in mergers. When done well, mergers can be a great opportunity for the congregations on both sides of the transaction. But they are not without pitfalls.
Before going too far down the merger path, leaders should beware of three things: (1) the true condition of the physical assets, (2) the true intent of the human assets, and (3) what they say (and what others hear). The first two were described in the last blog. (Both blogs assume that the merger is a combination of one vibrant, growing church and one that is struggling. The "bewares" are addressed primarily to leaders in the growing church.)
So what does it mean to beware of what you say and what others hear?  If you're the senior pastor or a key leader in the larger church, people will be listening closely to what you say as they evaluate whether the merger is a good idea. These "people" include members of your existing congregation and those in the other, smaller church. Not only will they be listening closely, they will be listening through their own filters and with their own preconceived ideas.
What will they be listening for? Those in the growing church will want to know about the risks and financial costs of the merger. They will want to know that plans are in place to minimize risks and to make the merger successful. Those in the other church will want to know what changes are being planned and if they will have a voice in the new entity. They will also want to know if the merger is likely to be successful, but they may have very different definitions of "success."
Mergers are inherently stressful events because of the uncertainty, risk, and change that they bring. That means that the anxiety about the merger is present in every meeting – in town halls, with the elder board, or in a 1-on-1 with someone from either congregation. Many pastors and other ministry leaders instinctively seek to minimize or eliminate stress. In this context, it may appear that you can lower stress with answers that appease the questioner by telling them what they want to hear. That is when you need to beware! Specifically:
Don't downplay the changes that will occur after the merger. Too often, a struggling church would love to have an infusion of money and energy, but essentially keep everything the same. Every time you say "we won't change ____," you box yourself in and set the stage for future conflict.
Don't say that great results are guaranteed. They're not. And while it may be tempting to make this type of pronouncement to win people over, it's an empty promise that will lead to problems down the road.
Don't avoid giving answers that you know. When difficult or controversial questions arise, you may be tempted to give vague answers, even if you know more. If you know the answer, then say it. If you know that staff reductions or other painful steps will be part of the merger, don't say "we'll wait and see."
Don't make up answers. On the other hand, you may also be tempted to provide details that you don't have. If you don't know the cost of renovations, don't say "We'll be able to cover the costs from our reserve account." It's better to say, "I don't know, but I'll get back to you," than to make up an answer that you'll regret.
You may worry that these recommendations could derail the merger. That's a valid concern. But it's far better to call off a merger than to complete a bad one and live with the consequences. Clear, direct communication on the front end is essential if you want to avoid that unhappy ending.
 It's easy to receive my blogs by email. Just sign-up on Feedburner by clicking here.