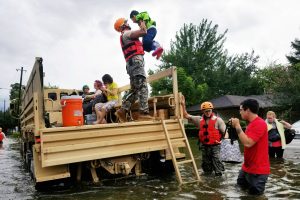 As I continue to reflect on Hurricane Harvey's impact on our region, I keep hearing one phrase: "what really matters." Individuals who lost many of their possessions when their homes flooded have said, "It's just stuff. My family and I are safe, and that's what really matters." School administrators and teachers who have missed two or more weeks of instruction have said that standardized tests are secondary because what really matters is helping students deal with trauma and regain a sense of normalcy. Churches have adjusted programming so that they can send people out to do the recovery work that really matters.
My hope is that this will not be a momentary shift, but I am skeptical. I've seen major events that generated short-term shifts but little long-term behavioral impact. Having said that, I know that crises can change trajectories for individuals and organizations.
With that in mind, here are 3 important leadership questions to consider, regardless of whether you're recovering from a disaster or just trying to lead faithfully:
Are you clear about what really matters for your church or ministry? The "tyranny of the urgent," and sometimes even the tyranny of nonsense, will consistently win unless you are crystal clear in your own mind about what is truly important.
Do your communications, both formal and informal, reinforce what really matters? The issues that are urgent and nonsensical, but not truly important, are often championed by people that you are leading. While you can't prevent these distractions, you can minimize them by clearly and consistently communicating (and over-communicating) organizational priorities.
Do your plans and decisions reflect what really matters? Here's a simple test: make a list of your decisions over the past month or two. Are they aligned with your stated priorities? If not, why? If you understand why you went off track, you can begin to make adjustments.
I wouldn't wish a Category 4 hurricane on anyone. But I'd be glad for every leader to focus on what really matters.
It's easy to receive my blogs by email. Just sign-up on Feedburner by clicking here.