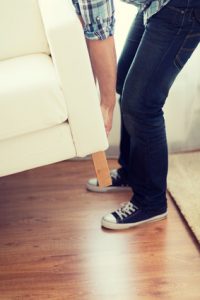 One of our summer projects was to do some work around our house, including rearranging the furniture in our family room. We've thought about this for a while but just never made the time. We didn't buy any new furniture, and we only removed two small items. But we're amazed at how much more spacious the room feels.
Before you lift anything, let me offer four leadership applications that won't give you a sore back:
Personally, you can rearrange your schedule to work more productively and make room for the things that are most important. You might need to take a couple of things off your calendar, but you'll be surprised at how much you can gain simply by being more intentional.
Rearrange the agenda for your leadership team meetings. Do you spend too much time on mundane topics, and then run out of time for the critical issues? Shaping the agenda to put "first things first" can increase your ability to make important decisions and keep the meetings more interesting.
Restructure staff responsibilities. If you take a close look, you may discover that too many staff hours are dedicated to low priority tasks. Changing the duties of staff members is not a trivial activity, but leaders should not neglect their stewardship responsibility if resources are being wasted.
Rearrange how volunteers spend their time. Your greatest resource is the time and talent of the volunteers in your church or ministry. Is too much of that resource tied up in committee meetings? By streamlining decision-making processes, you may be able to reduce the number of committees or the frequency of meetings and release high-capacity people to do ministry.
Two final thoughts before you start rearranging. We began our house project with a clear goal in mind – we wanted to open the room and create more space for family gatherings. Your rearranging should be similarly guided by a clear goal. Second, we used an online tool to play with digital configurations before we started moving furniture. In the same way, do your prep work, such as discussions with your leadership team, before making changes that affect other people. Which kind of rearranging could be most fruitful for you?
It's easy to receive my blogs by email. Just sign-up on Feedburner by clicking here.