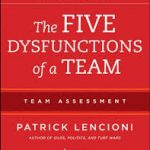 The single greatest advantage any company can achieve is organizational health. Yet it is ignored by most leaders, even though it is simple, free, and available to anyone who wants it. (Patrick Lencioni, The Advantage)
While Lencioni's words focus on corporations, the importance of organizational health, and the lack of it, is equally true for churches, ministries and non-profits. This workshop is based on Lencioni's best-selling book, The Five Dysfunctions of a Team, and the supporting material developed by his company, The Table Group. As preparation for the workshop, each participant will be asked to complete the "online team assessment" from The Table Group. During the workshop, the team will learn Lencioni's five dysfunctions model and will examine its meaning in their specific contexts. In doing so, they will also develop specific plans to move toward greater organizational health.
The Five Dysfunctions of a Team workshop includes:
Teaching of the concepts from The Five Dysfunctions of a Team
Interpretation and discussion of the results from the online team assessment
A fast-paced, interactive approach
Exercises to identify and overcome the obstacles to organizational health
The interactive workshop is designed for 1-day or 2-day settings with the organization's senior leadership team. For more information or to schedule a Five Dysfunctions Workshop, check the "Staff Development" option on the contact page and write Five Dysfunctions in the message box.