When is the last time that you invested in developing your staff? After all, they are the most valuable asset to your church or ministry. Staff development is often a "priority" that keeps getting put off until tomorrow. I offer several practical and interactive experiences that will improve your staff's teamwork and effectiveness.

One of the hardest conversations for ministry leaders is with a staff member or volunteer who is not meeting expectations. In many cases, leaders avoid the conversation altogether. The PerformanceCompass workshop teaches supervisors how to address these concerns in a way that improves results, develops employees and enhances team dynamics. Click here for more information on PerformanceCompass.
If your church or ministry isn't making wise decisions or keeps repeating the same mistakes, a lack of "honest dialogue" may be part of the problem. Based on the same best-practice research as PerformanceCompass, Honest Dialogue is a practical, interactive training workshop in which participants learn how to have positive and productive conversations about important issues. Click here to learn more about the Honest Dialogue workshop.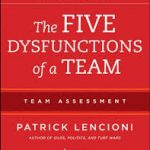 How healthy is your church or ministry? Leadership expert Patrick Lencioni says that organizational health is THE most important driver of success. Based on his best-selling book, The Five Dysfunctions of a Team, this interactive experience is designed to help senior leaders diagnose the obstacles to health and build a more cohesive and effective team. Click here for more information on The Five Dysfunctions of a Team workshop.
Is your executive team actually working as a team? If not, the effects are being felt throughout your church or ministry with poor communication, confusion over decisions, and missed opportunities. This 12-month program combines team-building content with 1-on-1 and team coaching. Click here for more information or contact me to discuss how your team can go to the next level.
Leading from the Second Chair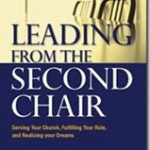 Leading from the second chair is fundamentally different than from the first chair, but much of the leadership development for ministry leaders is based on a first chair perspective. This interactive workshop, based on the book by the same title, helps staff members explore the unique challenges of second chair leadership and learn how to thrive in their role. Check the "Staff Development" option on the contact page to learn more.
Personalized Coaching
Sometimes the best leadership development takes place in a one-on-one setting. That's why I also offer personalized coaching services. You'll find more information on the coaching page.