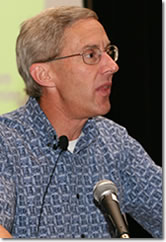 Mike Bonem's ability to connect with audiences on core leadership issues has made him a frequently requested speaker. He has crossed the country and spanned denominations to deliver keynote addresses for large conferences or lead interactive seminars for smaller groups and staff teams.
Mike speaks and leads workshops on a variety of leadership topics, including content from his four books and other related issues:
In Pursuit of Great AND Godly Leadership
Thriving in the Second Chair
Leading from the Second Chair
Leading Congregational Change
The Challenge of Change
What Are You Pursuing?
Executive Pastor: If, When, Why, How?
Who Is on the Bus? (and other issues related to managing staff)
Why Plans Fail
Building a Bridge or Staring Across a Chasm?
Servant Leadership
… and more.
Click here for brief descriptions of each of these presentations.
Organizations for which Mike has spoken include:
Willow Creek Association
The Purpose-Driven Church Conference (Saddleback Church)
Leadership Network
Christian Leadership Alliance
National Association of Church Business Administrators
Texas Methodist Foundation
Diocese of Sydney, Australia (Anglican)
South Carolina Baptist Convention
Ecumenical Stewardship Center
Baptist General Convention of Texas
Network for Churchwide Transformation (PCUSA)
Urban Academy (United Methodist)
California Southern Baptist Convention
Episcopal Diocese of Texas
Kern Foundation
Japanese Evangelical Missionary Society
Contact Mike about speaking at your conference or seminar.