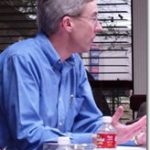 What is coaching? It's a one-on-one relationship that enables a church or ministry leader to grow and to address specific needs. I offer five options for coaching relationships:
Leadership emphasis – a 12-month track, each month covering a different aspect of effective leadership.
Strategy emphasis – a 6-month track that focuses on the development of an effective strategic plan.
Second chair leadership – a 6-month track that addresses the unique dynamics of leading when you're not in charge.
Situational – a flexible relationship that tackles 1 or more specific opportunities or challenges that the individual is facing.
Executive team – a coaching relationship with the entire senior leadership team to improve how they work together and individually. Click here for more details.
Coaching is always results-oriented. At the conclusion of every session, you can expect to have gained personal insights, developed specific action steps, or identified other practical take-aways. A typical coaching relationship involves one session a month with each session lasting an hour. If you want to learn more, choose the coaching option from the pull-down on the Contact page.