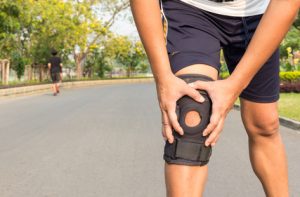 The window in the meeting room looked out over the running/walking path at the conference center. One person caught my eye as she passed with a slight but noticeable limp. Some might react to this with admiration at the runner's perseverance. But as a lifelong runner, my immediate thought was, "Stop! You're probably making your injury worse or causing other injuries!"
In the same way, leaders may have experiences that cause them to limp. To be clear, I'm not talking about the weaknesses that every leader has. In those cases, good leaders work to overcome their deficiencies and add people with complementary strengths to their teams. That's no different than a runner who changes workouts in order to get faster.
But what about those instances when a runner or leader is truly hurt? For the runner, it's a strained muscle from a strenuous workout or a twisted ankle from stepping in hole. For a leader, the "injury" may be caused by something obvious like opposition from a powerful member of the church. But it may be less obvious – trouble at home, a lukewarm response to a new vision, the unexpected resignation of a key staff member, or exhaustion from pushing too hard for too long.
The real problem is not the occurrence of these injuries – it's how leaders respond. We celebrate leaders who overcome adversity, and so we assume that we should press ahead when injured. But consider how a wise coach would advise an injured athlete:
Don't ignore the injury. If you pretend like you're not hurt, you will almost certainly make it worse.
Rest. Slowing down, or taking time off, is often necessary for recovery. Sometimes just a day or two is all you need to get back to the top of your game.
Get help or treatment. There are experts who can diagnose and aid in the recovery process for athletes and leaders. Rejecting help from others doesn't prove that you're "tough" – it's a sign that you're not wise.
Beware of secondary injuries. Athletes who ignore an injury often hurt some other muscle or joint because their bodies compensate for the original problem. It's no different for leaders.
You may not be able to prevent leadership injuries, but you can choose whether or not to keep limping.
It's easy to receive my blogs by email. Just sign-up on Feedburner by clicking here.