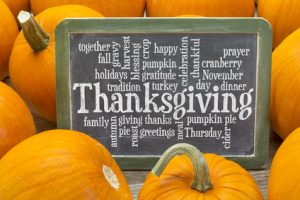 Despite the title, this is not a blog to advocate for more vacation days at the end of November. I do want to suggest, however, that extending the spirit of Thanksgiving can change our lives and the organizations that we lead.
When we talk about the "spirit of Christmas," we're typically referring to "peace on earth and goodwill toward all people" or that "it is better to give than receive." These are wonderful sentiments that often are lost in the busy-ness and consumerism of the season.
A spirit of thanksgiving doesn't focus on what we want – it's rooted in gratitude for what we have already received. Paul instructs, "Do not be anxious about anything, but in every situation, by prayer and petition, with thanksgiving, present your requests to God" (Phil. 4:7). If the spirit of thanksgiving became the norm, our churches and ministries would be characterized by:
Joy – because we have so much for which to be thankful.
Peace – because the things about which we tend to complain or worry are nothing when compared to the positive side of the thanksgiving ledger.
Hope – because our reflections on God's past provisions (and the promises in Scripture) should give us confidence in future, even in the midst of uncertainty.
How would your organization change if staff and core volunteers practiced the kind of thanksgiving that produced joy, peace, and hope? I think there would be less conflict and more collaboration. Staff turnover would go down and engagement would go up. "God is at work here" would be heard frequently.
Perhaps your circumstances are difficult right now and you disagree with this blog. Paul speaks to this as well – "I have learned to be content whatever the circumstances … whether well fed or hungry, whether living in plenty or in want, " (Phil. 4:11, 13).
The good news about extending Thanksgiving is that it does not require the government to declare a new holiday. It simply requires a decision on your part to practice thanksgiving and to encourage the same of those you lead.
Receive my blogs by email (via Feedburner) by clicking here.