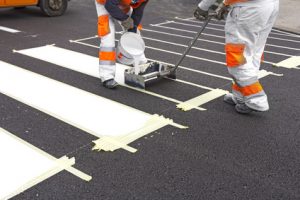 One of the local routes that I often drive includes a tight left turn onto a narrow street. At least half the time, my task is made more difficult by a car that has stopped well beyond the line on the intersecting street. Only recently, I noticed that the paint has worn off and the stop line is almost invisible. It's hard to hold someone accountable for crossing a line that they can't see.
That last sentence is applicable in many situations other than driving. Most of the people reading this blog lead small organizations – churches, ministries, denominational bodies, non-profits. Even those who receive paychecks in the marketplace may be volunteer leaders in a church or ministry. One of the realities of small organizations is that they rarely have the formal rules and structures that are common in large corporations.
Please note the word "formal." Formal rules and procedures are usually written in employee manuals and other documents: the way to request time off, a time limit for turning in expenses, a safety checklist to complete before starting a project, or the steps to take when hiring someone. Large organizations tend to have dozens and dozens of these formal rules.
Churches and ministries may have dozens of rules, but many of them are formal. You won't find them in writing, but instead learn about them through verbal instruction or by observing others. On the positive side, this informality allows greater nimbleness. But on the other hand, it can be confusing for new staff that keep crossing invisible lines and frustrating for long-term staff that wonder why the rookies don't follow the rules.
So here are two leadership questions to consider before you get mad at a staff member who has crossed a line:
Was the line clear? Have they been told what the rule is? ("They should have known" is generally a poor response.)
If the rule is informal, are exceptions common? You can't expect one person to adhere to an informal rule if their peers don't consistently follow it.
Rather than getting angry or reprimanding your staff member, you may find that you need to repaint the line.
It's easy to receive my blogs by email. Just sign-up on Feedburner by clicking here.