May 21, 2013
I want to share a secret that may surprise you. Most serious runners would prefer to run uphill rather than downhill. Running uphill is harder work for the cardiovascular system, and it definitely forces you to slow down. But going downhill puts a lot of extra stress on a runner's legs. Especially if the hill is very steep, every step involves not only the natural running motion, but the extra strain of putting on the "brakes" to keep your speed under control. In addition, a slight stumble while running downhill is much more likely to end in a hard fall to the ground.
What does this have to do with leadership? Many leaders would say that they prefer those seasons when everything is going well, when their church or ministry has lots of forward momentum. It's like the runner who has gravity on his side while coming down a hill. It looks easier, but that organizational momentum comes with its own set of challenges and risks.
What are those risks?
The leader may become smug or complacent, taking his or her eye off of the organization and its goals.
Staff members may start to relax and lose their edge.
Because all seems to be going well, the organization may not pay attention to changes in its environment or threats (internal or external) that could cause a derailment.
Or with the overconfidence that can come with success, they may start trying all sorts of things that aren't part of their core mission.
Now I don't want to mislead you. If I'm on a run and I'm approaching a steep climb, I don't leap for joy. I know it will be hard work and that my lungs and legs will be burning when I get to the top. I will even relish the ease of a downhill stretch for the next few strides. But I'm wary of the damage done by too much downhill running. So should you.
It's easy to receive my blogs by email. Just sign-up on Feedburner by clicking here.
May 14, 2013
When you hear "IQ," you know what it refers to. And you're probably familiar with EQ, which stands for emotional quotient or emotional intelligence. But what about LQ? It's short for "laughter quotient." It's actually something that I made up, but I think it's vitally important for you and your staff.
I recently led a retreat for a group of ministry leaders. All came into the retreat feeling tired and stressed. One evening, we intentionally avoided any kind of formal learning agenda and instead played a couple of different games. We laughed and laughed, and that's when it hit me. Most leadership teams have low LQ's. They don't laugh together often enough.
Think about the staff that you lead or that you're part of. When was the last time that you laughed together? I'm not asking when everyone chuckled at a joke in a staff meeting. I'm asking about the last time that the staff had so much fun together that they forgot the ministry burden that they were carrying. A time when the interaction was so rich and entertaining that everyone forgot about rank in the organization.
Some of you are very good and intentional about creating these moments. You can honestly say that your staff has a high LQ. Others can't remember when you last enjoyed one of these moments.  Some of you may even wonder if it's necessary. Trust me – it is. There's great truth in the old expression that "all work and no play makes Jack a dull boy." Dull doesn't just mean boring. It also means that a person has lost their edge and that the twinkle has left their eyes. You're leading in an environment that depends on passionate, motivated people. When they lose that twinkle, it doesn't just impact the individual staff member. It spills over to their peers, to the volunteers that work with them, and to the people that they serve.
I know that an evening of fun games or a staff retreat filled with light-hearted moments won't cure all of an organization's ailments. But you might be surprised at just how much good it does. What can you do to increase your LQ?
It's easy to receive my blogs by email. Just sign-up on Feedburner by clicking here.
May 9, 2013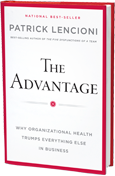 Few "business" authors write material that is as readily applicable in ministry settings as Patrick Lencioni. His newest book, The Advantage, is no exception. The subtitle captures the core message: Why Organizational Health Trumps Everything Else in Business. He could have omitted the last two words.
Lencioni's focus on organizational health is right on target. A lack of health, more than any other factor, is what holds organizations back or causes them to stumble. The first of four disciplines in his model is to "build a cohesive leadership team" (based on the principles described in his book, The Five Dysfunctions of a Team). He argues that the most effective teams are built on trust, engage in conflict in healthy ways, have high levels of commitment, hold each other accountable, and are pursuing a shared goal. When this happens, the organization will soar.
The second discipline is to create clarity, which Lencioni says is done by answering six questions. I particularly appreciate his definition of a "core value," which answers the question, "How do we behave?" The concept of values is not new – many authors have written about this and many organizations have created lists of their values. Lencioni's contribution is to distinguish different types of values, and in doing so, to make a compelling case for the importance of establishing and adhering to a few core values.
If you've read any of Lencioni's other books, let me offer two important caveats. First, The Advantage is not written as a fable. It is written in an easy-flowing, conversational style, but it doesn't use a fictitious company to teach the principles. Second, The Advantage draws heavily from Lencioni's other books. If you've read his other work (especially Five Dysfunctions and Silos. Politics and Turf Wars), then this one may seem repetitious.
There's one other caution for readers, and it's one that Lencioni mentions. Many of the ideas in The Advantage are quite simple, so much so that some readers may be tempted to dismiss them. Don't make the mistake, however, of confusing "simple" with "easy to implement" or "too simplistic to do any good" or being something that is "beneath you." In a recent presentation, Lencioni talked about one company that outperforms its competitors because they are willing to "stoop to greatness" by focusing on these simple practices. I would encourage you to get a copy of The Advantage, read it with your leadership team, and start "stooping" toward the simple but powerful disciplines that can build a healthy organization.
It's easy to receive my blogs by email. Just sign-up on Feedburner by clicking here.
May 7, 2013
You've undoubtedly heard about the massive school cheating scandal in Atlanta. But you've probably not heard about the problems with a recent SAT in Houston. According to one article, the test results for 22 students were thrown out because it was discovered that their desks were too close together during the exam. The article went on to say that there was no evidence of cheating on the exam, but because the rules were not followed strictly, these students would have to retake the SAT. To make matters even worse, the school in question is a low-performing high school, one where many of the students don't go to college. I can only imagine that a few of these students may simply give up rather than retaking the test.
I was very frustrated when I read this story. It just seems ridiculous. I wondered about the story behind the story. Did the people who decided to throw out the tests really think they were doing the right thing? Perhaps they knew it didn't make sense but were bound by inflexible rules. Or maybe they did have some discretion and somehow considered rule-following to be the highest goal to pursue. I don't know, but from the outside it's difficult to come up with a plausible reason to support the decision.
Are there any ridiculous rules in your church or ministry? What story might a reporter write if they inspected closely? What things are you doing that would seem senseless to an outsider? Do decision-makers in your organization focus too much on following rules rather than ministering to people? As unfortunate as the SAT story may be, the consequences of "getting it wrong" in our ministries is much greater. The longer that your organization has been in existence, the more likely you are to have created rules that don't advance your mission. And the longer that you've been part of the ministry, the less likely you are to notice. I hope this blog doesn't apply to you, but every once in a while it's good to take a fresh look.
It's easy to receive my blogs by email. Just sign-up on Feedburner by clicking here.
May 2, 2013
You may think that you know what goes in the blank. After all, the Samuel Jackson movie "Snakes on a Plane" has a pretty catchy title, even if it's not a classic. (For the record, I've not seen the movie.) But any veteran traveler will tell you that there's something that they fear much more than snakes on a plane. It's screaming children.
I've had a busy stretch of travel and have been fortunate to not experience screaming children … until last week. Before the plane took off, two different children were wailing at the top of their lungs. I always have reading and work to do when I fly, so it would have been natural to get frustrated in that moment. But For once I didn't, and the three reasons why are relevant for any leader, not just frequent flyers:
I've been there myself. I'm the father of four adult children. There have been plenty of times in the past when it was one of my kids who was annoying others on a plane or in a restaurant or other public place. That makes me much more sympathetic toward the parents. Effective leaders have a servant's heart which leads them to seek to understand their followers.
I had no control over the crying children. How often do we waste an incredible amount of emotion and energy on things that we can't change? The wise leader knows where he or she can have an influence and focuses there.
I'm not helpless. Even though I had no control over the children on the plane, I did have noise-canceling headphones. (Thanks to my wife and kids for my birthday present!) While they don't completely block (loud) external sounds, they soften them dramatically. Good leaders may choose not to attack a problem directly, but instead change the nature and impact of the problem.
So the next time you're around a crying child, pause and reflect on your leadership.
It's easy to receive my blogs by email. Just sign-up on Feedburner by clicking here.
P.S. My very next plane flight after writing this blog was full of kids returning from Orlando, and we had a 2-hour diversion due to bad weather in Houston. God has a sense of humor; I just had lots of time for reflection.
April 30, 2013
I love the outdoors, which is a problem since I live in Houston. For those who don't know, Houston has two primary seasons – unbearably hot and humid, and cool and rainy. In between these are brief stretches of wonderful weather. In addition, Houston is the fourth largest city in the country. All that to say that my thirst for the outdoors is rarely quenched.
But the other day was one of those picture perfect days, and I had a light schedule which allowed me to take a run at my favorite place in the middle of the day. Afterwards, I drove home with the windows down. Another consequence of life in Houston is that most of my driving is with the windows rolled up. While sitting at a traffic light, I heard the distinct sound of a woodpecker, which immediately connected me to nature and gave me a brief moment of joy.
What does this have to do with leadership? Quite a bit. When I drive with the windows rolled up, I am insulated from the world around me. It keeps out rain and exhaust fumes, but it also keeps out the sound of woodpeckers. Some leaders go to great lengths to insulate and isolate themselves. They rarely come out of their offices. They spend all their time with the executive team. When they are forced to be around others, they either keep the conversation superficial or they talk far more than they listen.
I realize that there are "good" reasons for leading in this way, just as there are good reasons for me to keep my windows up when I drive. For the leader, the reasons include the time that it takes to engage on a deeper level, the philosophy that leaders should devote their energy to high-level activities, or perhaps uncertainty about how to handle the emotions (hurt, anger, disappointment) that they may encounter. I understand these reasons, but the factors on the other side are more compelling. When a leader is in touch with people – whether that's the rest of the staff, volunteers, or those served by the organization – he or she will gain insights that can't be found any other way and will also build credibility in their eyes.
So consider taking a few things off your calendar and "rolling down" the windows that may insulate your leadership. You may be pleasantly surprised at what you hear.
It's easy to receive my blogs by email. Just sign-up on Feedburner by clicking here.
April 25, 2013
You may have heard the phrase, "Innovate or die." Is this axiom true? And more specifically, does it apply to churches, ministries, and non-profits?
While it might seem obvious that the most successful organizations are the ones that are most innovative, Jim Collins' research for Great by Choice uncovered a different truth. He found that the top performing companies were not more innovative than their peers. Yes, they were innovative, but they were not always the ones on the leading edge. Instead, they took small risks, learned from them, and then built on the ones that showed great promise.
Last week, I was in a brainstorming session with a large mission organization. It was exciting to hear the innovative ways that they're using the internet to rapidly accelerate the spread of the gospel. They're doing this in a way that fits Collins' concept, starting with small steps, learning, and then leveraging their successes.
For many ministries, however, the problem isn't that they're taking too much risk in their innovations; it's that they're not innovating at all. There are lots of reasons for this. Staff and resource constraints are always at the top of the list of excuses. Then there's the inevitable resistance to change and the bewildering range of options of new things to try. For these organizations, the "innovate or die" axiom is an appropriate warning.
What's a leader to do? Consider starting with an informal "innovation" audit. Convene a meeting with your leadership team to discuss how much innovation has occurred in the past 12 months and what impedes innovation. Then find a few people who show a tendency to think out-of-the-box, and give them some freedom to experiment. You might be surprised at what you discover.
It's easy to receive my blogs by email. Just sign-up on Feedburner by clicking here.
April 23, 2013
I enjoy running, and I especially love getting out of the city and into nature for my runs. So it was a real joy last week when I was able to run on the trails through the woods at a retreat center outside of Houston. The first day I was exploring and found a great route, so I decided to run the same trail the next day. About halfway into the run, I came to a fork, went to the right, and after a few hundred yards realized that I was on different path than the previous day. I have a good memory and a great sense of direction, so I was surprised that I had made this mistake. I was confident that I knew where I was going, but I had gotten off course. And that's when I realized the leadership lessons in this incident.
One of my favorite books to recommend is The Leadership Challenge, which says that one of the "five practices of exemplary leadership" is to "model the way." The problem for many leaders is that "the way" isn't as clear as it needs to be. A leader may think that the path is obvious, just as I did on my run, only to discover that he or she doesn't have the clarity that is needed. When you come to important "forks," do you have deeply held values that guide your decision? Do you have confidence in which path you should choose? Do the vision and values of the organization offer the guidance that you need?
My run was a solo venture, so no one followed me down the wrong path. It doesn't work that way for leaders – people are following them. In fact, sometimes those people are relying on the leader to clearly say, "I've been there. Here's the path you need to follow." If the leader takes a wrong turn or gives poor directions, it impacts the entire organization. Now don't let this discourage you from leading. Instead, lace up your shoes, check your map, and hit the trail.
April 18, 2013
I frequently make the drive between Houston and Dallas. It's 240 miles of fairly flat, boring interstate. Except for a few weeks from mid-March until late April. That's when the wildflowers turn the highway landscape into a painter's dream. A roadside embankment that had been nothing but weeds two weeks earlier will explode with the vibrant colors of bluebonnets and Indian paintbrush.
The interesting thing about this is that no one makes this happen.
It doesn't require a special program or particular effort. They are wildflowers. The seeds that drop at the end of one season lay dormant until the next spring. To the best of my knowledge, the state of Texas has only done one thing to foster this beauty. They passed a law that makes it illegal to cut or pick the wildflowers.
Leaders take note. Sometimes your best contribution as a leader is to get out of the way and allow the good things that God is doing to grow. Sometimes the seeds for growth are germinating in unseen ways right at your feet. Rather than creating a new program or trying to force growth, the best use of your time and position may be to celebrate what's happening and keep others from cutting it down.
This analogy points out one more truth about leadership – the tension between leading and letting go. There are times when great leadership means recognizing that God is doing something powerful and that the worst thing you can do is to try and control it. That does not, however, mean that leaders should be passive. Effective leaders discern when to step in and where to direct their energies. They are mindful that weeds can choke off growth. And they know that when God puts bluebonnets along their path, it's best to enjoy them.
It's easy to receive my blogs by email. Just sign-up on Feedburner by clicking here.
April 16, 2013
Have you ever heard of the "confirmation bias"? Hint: it has nothing to do with the faith instruction offered in many churches for children entering their teen years. The confirmation bias occurs when we are making important decisions, and it refers to our tendency to look for facts that support what we want to hear.
In their excellent new book, Decisive, Chip Heath and Dan Heath explain the confirmation bias this way: "When we want something to be true, we will spotlight the things that support it, and then, when we draw conclusions from those spotlighted scenes, we'll congratulate ourselves on a reasoned decision." (I'll post a review of the book on my blog in the near future.) Heath and Heath also report on a study of literature that "found that the confirmation bias was stronger in emotion-laden domains such as religion …"
Think about a couple of important decisions that you've seen friends make recently. Would you say that they sought out a full range of data that supported and contradicted their preferences? Or did they fall victim to the confirmation bias, giving much more attention to one set of facts. What about you? As you reflect on your last major decision, did you fall victim to the confirmation bias?
Consider a non-profit that is considering a new offering for its clients. One of the key leaders makes the presentation to the board, and the "facts" make the decision seem like a no-brainer. But did the person championing the new idea really consider all the facts? And did anyone on the board advocate a contrarian position? Or consider a church that hasn't experienced growth in several years. At a leadership team meeting, one person says, "I don't understand. We're such a friendly church." Everyone else in the room agrees. When the pastor asks, "Are my sermons an issue?" everyone rushes to say that's not the problem. But "friendliness" toward outsiders is virtually impossible for an insider to judge, and many people don't know how to give honest, constructive feedback to their pastor.
These examples highlight two tendencies that contribute to the confirmation bias in churches and many other non-profits. The first relates to the people who serve on the board and in other leadership roles. If the unspoken selection criteria favors people who are your friends or have similar viewpoints, your fight against the confirmation bias is starting from a losing position. They are the least likely to question a one-sided decision. Even if the leadership team is more diverse and willing to disagree, the second issue is that they are still "insiders" who have blind spots and a limited perspective. The fresh eyes of an outsider can bring new facts to the table that an insider will never see.
Is the confirmation bias hindering your organization? If so, what will you do to overcome it?
It's easy to receive my blogs by email. Just sign-up on Feedburner by clicking here.