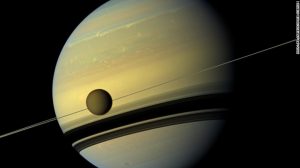 Cassini came to a fiery, intentional end recently. If you didn't read the news, Cassini is a NASA spacecraft that was launched in 1997 and spent the last 13 years exploring Saturn and its moons. The spacecraft was deliberately crashed into the planet, allowing scientists to gather even more data about Saturn's atmosphere.
Last week, I posted a 2-part blog about church mergers ("Before You Merge"). It was written primarily for larger churches that are considering adding campuses through mergers, typically with smaller congregations. This blog is intended for the other audience – the leaders of smaller churches that may be considering whether to merge.
In smaller churches, a merger decision is often centered in "end of life" conversations. That's where Cassini can be instructive. What can we learn?
Reframe the "end." One of the project scientists said, "Cassini may be gone, but its scientific bounty will keep us occupied for many years." Could the assets of your church – the land and building, and the human and financial resources – have a much greater Kingdom impact as part of another congregation?
Be clear about your mission. Cassini's mission was to gather as much information as possible about the Saturn system, not to keep a spacecraft in orbit for as long as possible. Struggling churches often allow institutional preservation to become their shadow mission. They never articulate this, but it is reflected in all their decisions.
Help people process their emotions. The Cassini project team experienced grief, celebration, and a wide range of other emotions. In times of loss and significant change, people need space to work through those feelings. Ultimately, leaders can channel that emotional energy in positive ways through their focus on the mission.
One Cassini scientists said, "This is the final chapter of an amazing mission, but it's also a new beginning." The very same words could be said of a church that is preparing to begin a new chapter in its life as the campus of a larger congregation. Should you consider these be words for your church?
It's easy to receive my blogs by email. Just sign-up on Feedburner by clicking here.